Since we originally designed and built the Weekly SuperIndex recession model, we have created fourteen other quantitative recession models for clients over the last decade. These range from broad-based short, medium, and long-term composite leading & coincident economic indicators to composites focused on Housing, Labor, Gross Domestic Product & Income and Valuations.
Each of these fifteen diversified recession models are combined into a Diffusion representing how many of them are in their respective recession territories, to form the Recession Forecasting Diffusion (RFD) which ranges from 0 to 15.
The RFD is thus a collection of fifteen powerful diversified recession forecasting methodologies that differ in data, mechanics, approach and theory to offer us an over-arching recession dating and forecasting methodology that is resilient to individual "model risk".
There is no "one size fits all" mathematical model that performs well in the past and is guaranteed to perform well into the future. Every recession is different and since recession calls are "high stakes" events, with costly consequences for either calling a recession when there is none (as with the recent ECRI call that cost investors who heeded it 28% in lost stock market gains) or failing to call a recession and getting caught in the average 30% recessionary draw-down, we need to be very sure when we make a call. The only way to do that is by consulting multiple robust models that are not too correlated with each other in makeup or methodology. If one, two or even three of these models "fail" we have the other models as backup.
The fifteen models that make up the RFD are listed below:
Coincident Models
National Buro for Economic Research (NBER) "Big-Four" Model
Gross Domestic Product and Income model (GDPI)
The SuperIndex Diffusion
The SuperIndex Coincident Composite
Short-Leading Models
The Anxious Index
The SuperIndex Leading Composite
The U.S Labor Market Index
Medium-Leading Models
SuperIndex Recession Syndrome model
Composite Market Health Index (CMHI)
The Stylized Headwinds Index
The Weekly Leading Economic Index (WLEI)
The U.S Monthly Leading Economic Index (USMLEI)
Long-Leading Models
The US Housing Market Composite (USHMI)
The RecessionALERT Valuation Index (RAVI)
The US Monthly Long-Leading Economic Index (USLONG)
Each of the above are sophisticated, powerful recession forecasting models in their own right, but they vary in the lead warning times to recession. As a general rule, the longer the lead warning a model offers the more likely it is exposed to possible error or inaccuracy. Therefore, the RFD obtains resilience by using leading and co-incident models.
RFD Index
The Recession Forecast Diffusion merely counts how many of the 15 models are flagging a recession, and is depicted below: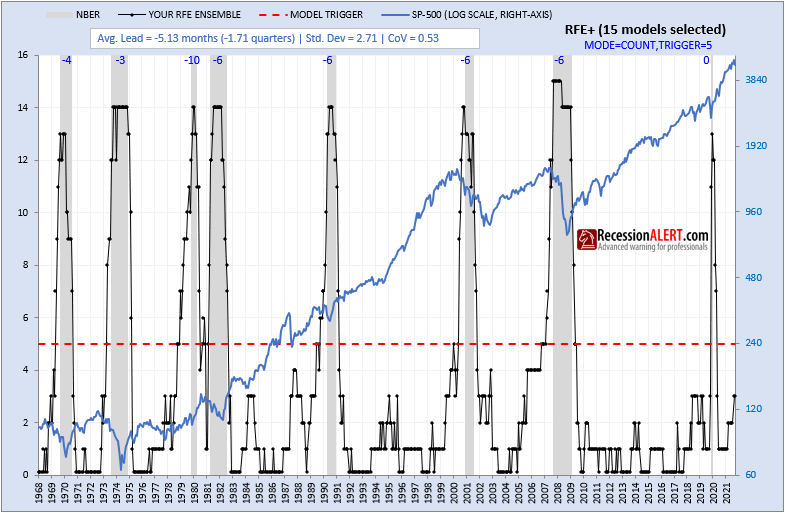 We have configured an optimum actionable trigger for the RFD of at least five models in recession to achieve best lead time (5 months) with least variability (2.71 months) and zero false positives or negatives. Dividing the standard deviation of lead time by the lead time itself gives a coefficient of variance of 0.53 (lower the better) which compares very favorably with some of the best individual model components.
It is important to notice that most models got caught short in the 2020 "Coronavirus" recession since the complete economy stop was purposely induced due to lockdowns and stay-at-home orders. If we remove this recession from the dataset as an "artifact" then we have an average lead time of 5.85 months with a standard deviation of 2 months and an astonishing coefficient of variance of 0.34 which is the second best of all the models in the below table :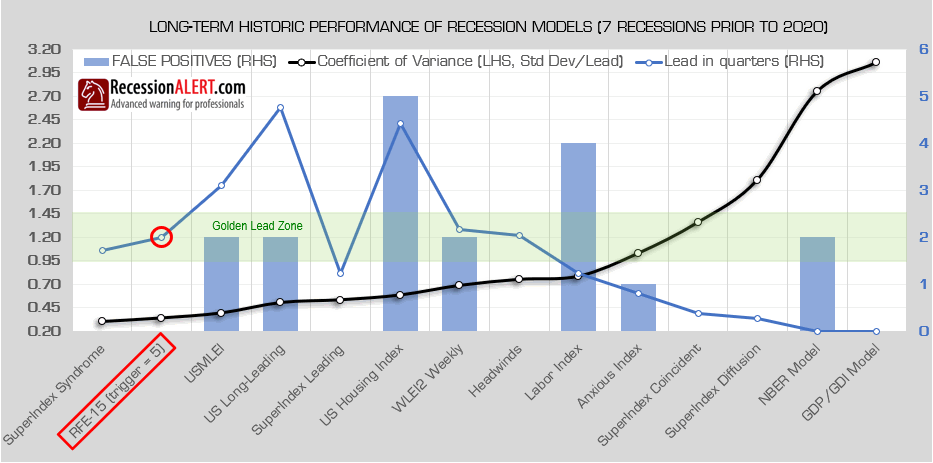 *CMHI excluded from comparison due to too many false positives and RAVI excluded as history less than 7 recessions.
More importantly, the RFD falls into the "Golden Lead Zone" of 1.5-2.5 quarters (4.5 to 7.5 months) which is the optimum recession warning for stock market returns according to detailed research we have done in "Recessions: Just how much warning is useful anyway?"
This confirms all previous research we have done that shows ensembles (or diffusions) have far better recession forecasting performance characteristics than any of the individual models making up their components. Notwithstanding that they are less susceptible to individual "model risk."
Mapping probabilities of recession
We can determine the probabilities of a U.S recession within 12, 18 and 24 months for each RFD level by counting in history how many of the dots of a specific RFD level fall within 12/18/24 months of the start of a US recession and divide that by the total number of points of a specific RFD level. This yields the following table:


We note why an RFD level of five was chosen as a trigger, since at this level, probabilities of a recession within 12 months rise dramatically from 30% to 87%. It also makes sense that the further out we look, the higher the odds we should be expecting of a recession.
We can use this table to map out the probabilities on a timeline: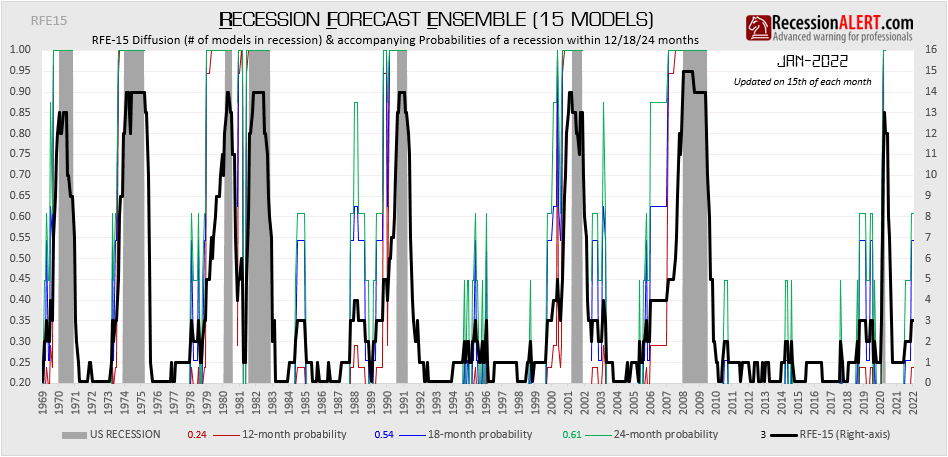 We see that at the current RFD level of 3 (RAVI, CMHI and HOUSING are in recession) the odds of recession in 12 months is 24%, in 18 months is 54% and in 24 months is 61%.
Access to updates of RFD
The prior chart is updated together with an alert for subscribers whenever the RFD rises. Subscribers can access the chart from the RFD tab in the Dashboard menu as depicted below:


Of course, the RFD has been available to PRO subscribers in the Monthly Excel Data Download for many years now. You can access its chart and its historical data from the "Monthly PRO Excel Data File" at  https://recessionalert.com/excel-data/