We are  focused on U.S recession forecasting, dating and probability estimation using  quantitative econometric models and statistical techniques. Our SuperIndices track current and future US economy strength/direction and are updated 21-25 times per month as their component data become available, with detailed reports available to subscribers on a weekly basis. We have no interest in promoting specific shares, commodities, structured funds or political views. Our only interest is the accuracy of our models, meaning you can be assured of unbiased information.
Recessions often bring about with them destructive portfolio losses and uncomfortable draw-downs, but avoiding or hedging them will help preserve your capital and can significantly boost portfolio performance.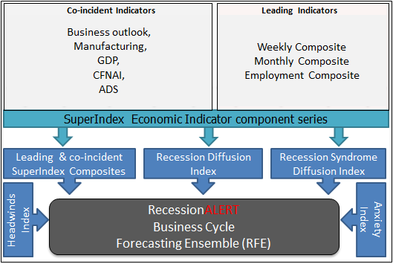 For a comprehensive explanation and samples of our reports offered in the subscription go to OUR SERVICES
***NEW*** You can follow our public Twitter feed at https://twitter.com/RecessionALERT2
NOTICE : Just 15 1 annual subscriptions available at $325 (save $100) until 23 July. Details here.