For a while, it seemed we had tamed the coronavirus epidemic in the US. But new daily cases are on the 3rd surge since the epidemic hit US shores: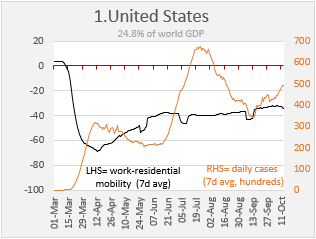 The U.S lags most of Europe's '  countries by about 4-6 weeks on the coronavirus curve. When we saw the infections picking up in Europe after lockdowns had been eased, we wondered if the US might be able to dodge a bullet, but sadly it appears a new wave of infections is now upon America as we follow the same path as those countries in Europe that were ahead of the US curve: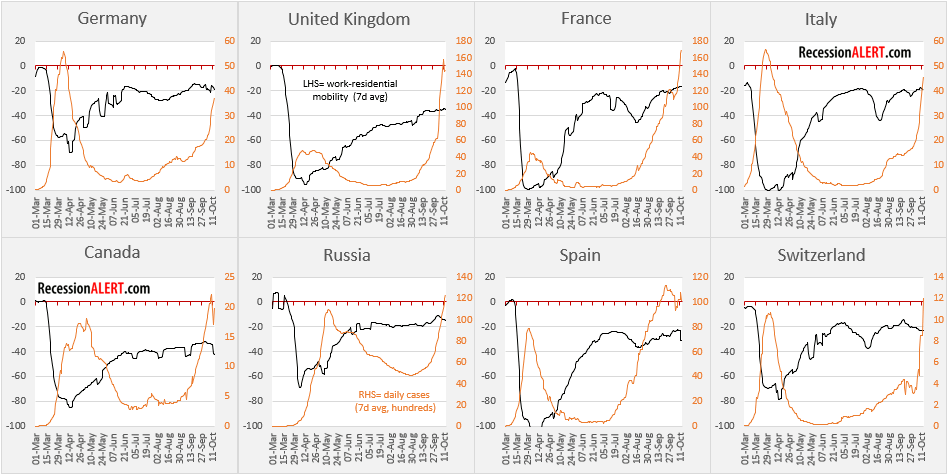 Particularly alarming is Italy – you will remember the horror stories coming out of Italy in the lead up to its peak, and it looks like they are set to shoot past that peak. The United Kingdom has simply blown past the old peak as has Spain.
Given that many developed countries (that had massive waves of infections they managed to suppress) are now surging past their prior peaks, it is wishful thinking to assume the U.S will not follow suit.
The reasoning for this is simple – deep suppression of daily caseloads, leads to relaxation of stay-at-home orders and lockdowns, which leads to increased mobility and social contact, and gradually a slippage in population diligence, caution and due care. Given that not one country is even close to herd immunity, the outcomes are predictable.
The below charts show that among the 40 largest economies in the world, economic mobility as an aggregate has stalled for some time now and almost 40% more countries have rising daily infections than those with falling infections:


To this end we need to prepare to exceed the U.S daily new cases peak of 67,000 and prepare for this to move close to 100,000 new cases per day.
Without a doubt that is going to lead to more stay-at-home orders and lockdowns, even if not as harsh as the initial ones, and it is going to have a huge hit on U.S Economic mobility, which as we have shown, is running comfortably north of 0.9 r-squared to other weekly leading economic  indices and is an excellent proxy for measurement of economic conditions.
In a nutshell, we have not seen the worst of the Coronavirus epidemic in the U.S and the "main peak" is yet to come, with the economy likely taking a hit.
The U.S economic rebound has already stalled according to a broad measurement of high frequency data: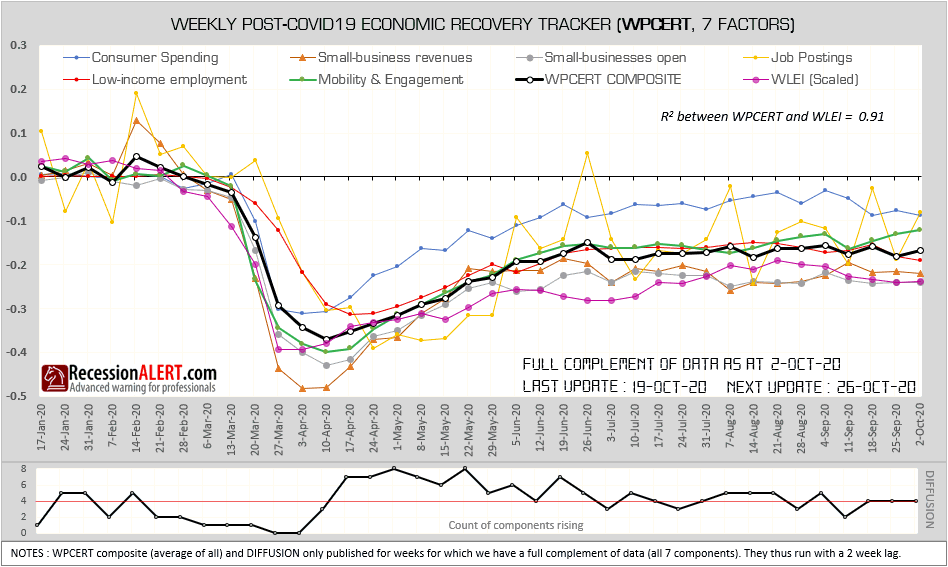 The resurgence in daily new coronavirus cases is not isolated to a few states. We have the number of states in serious trouble (within 20% of their daily peaks) climbing from about 10 to almost 30 now. The number of states that had managed to bring the virus under control (less than 33% of their daily peaks) has dropped from 12 to just 7 now.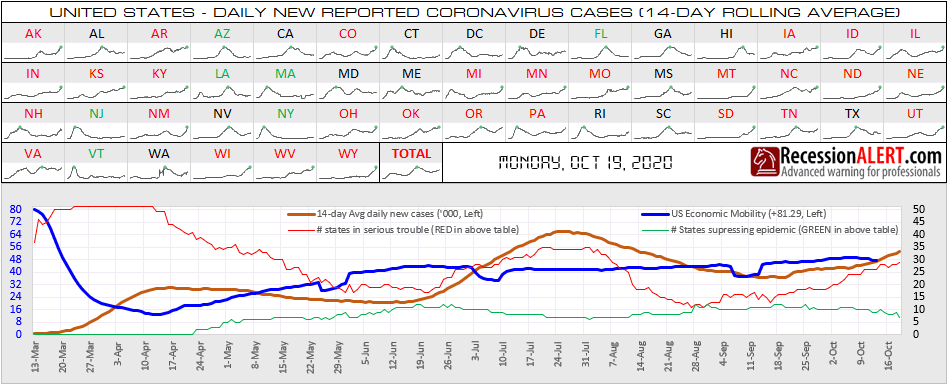 The next U.S president is going to find themselves in uncharted waters shortly after being inaugurated  and its difficult to see how economic mobility, and thus the economy, can break out of its current recovery plateau. In the prior (2nd) infection surge, economic mobility flatlined, so we should expect nothing less. In fact, it is not improbable that the recovery pulls back somewhat against a backdrop of a 3rd surge.
The road to immunity, herd or vaccine, is likely to be a rocky ride well into 2021.