Since we last reported on the current Global Recession, the Global Leading Economic Indicator (GLEI) rose for the month of March, but is following an atypical growth pattern coming out of recession, with a slope far shallower than the normal expected rebound. Also noteworthy this month is that the percentage of countries with rising LEI's seems to have stalled-out at 69%. This is concerning at this stage of the recovery and only 5 months with the GLEI above zero.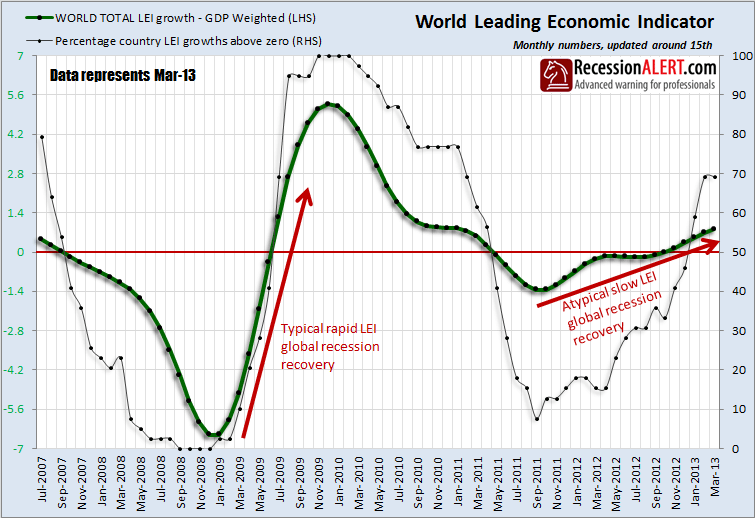 EXTERNAL PUBLISHERS PLEASE NOTE : THE BALANCE OF THIS ARTICLE IS COPYRIGHTED. REFER YOUR READERS TO THIS LINK FOR THEM TO COMPLETE THE ARTICLE.
The sluggish GLEI growth from this most recent trough is evident when compared to the prior 15 contractions on the chart below, where we see we are way below the average GLEI recovery 18 months after the trough. But the real outlier event is that it took the GLEI 14 months to break above zero, versus the average 6 months. The only other time that took longer to break above zero from the trough was in 1984 when the GLEI took a whopping 24 months to get from trough to zero.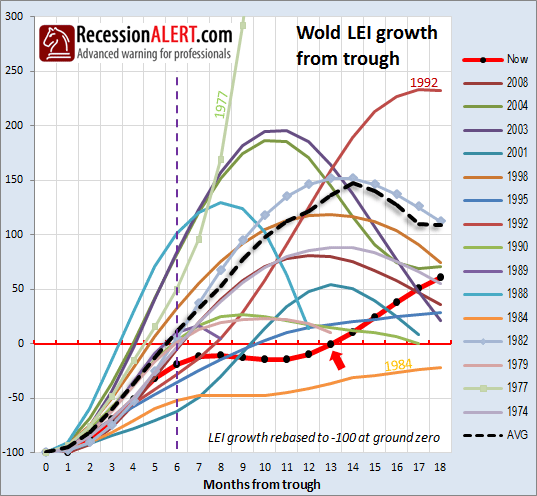 Given the below par reading of the GLEI growth after 18 months and the fact that it took 14 months to break above zero makes for an atypical global recovery.
We observe another thing from the above chart – below par recoveries remain below par recoveries. The only time a below-par recovery managed to morph into an above-average recovery was in 1992. The 1982 recovery was a "on-par" recovery that morphed into a "above par" recovery. Whether the recovery is above or below par has very slight statistical bearing on how long the GLEI subsequently remains above zero. The average time the GLEI remains above zero is 18 months (ranging from 9-26 months) for above-par recoveries and 13 months (ranging from 3-22 months) for below par recoveries.