We provide a combination of email and web-push alerts for all of the following:
When a PDF report is updated with new data and published (web push only, subscribers only)
When new market commentary is published (email & web push for subscribers, occasional web-push for public)
When new research is published (email & web push for subscribers, selected web-push for public)
When important market signals are showing from our models (email & web push for subscribers, occasional web-push for public)
1.Alerts Log
You can find a chronological historical log of alerts for items (2), (3) and (4) in the REPORTS menu: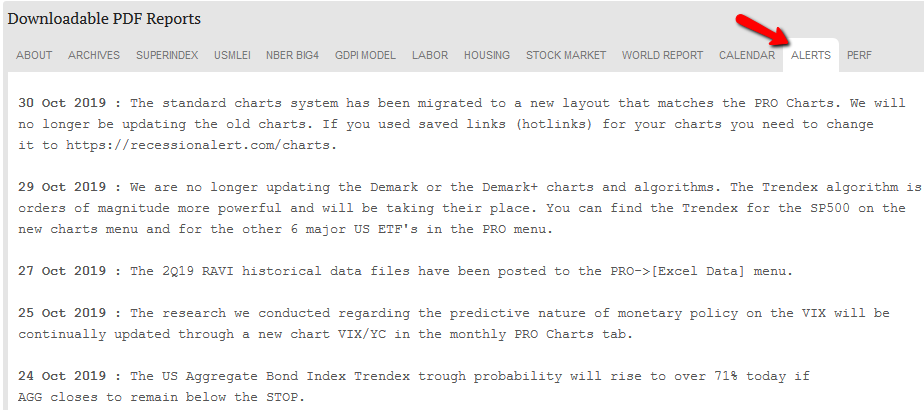 2.Web Push Alerts
Web push alerts will be sent to your desktop (Windows, Mac) or mobile device (Android only) even if you are not logged in or reading our website and even if your browser is not open.
Public as well as paying subscribers have to specifically elect to receive notifications from us. You should see a prompt on the top left of your browser if you have not yet elected to receive notifications. Just like native app notifications, web push notifications are meant to facilitate timely flow of information. To subscribe or opt-in to these notifications, you are not expected to download and install an application. You can simply subscribe to these notifications by clicking on the Allow button on the permission prompt from our website.


Click on "Allow Notifications" to opt-in to the push alerts. You should get a welcome alert within 5 minutes of doing this. For future alerts, remember that we may place a link in the alert taking you to the blog post or chart or research report of interest: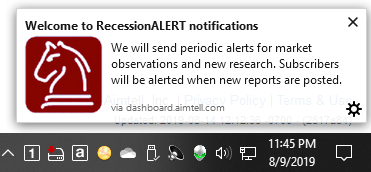 Even if you don't see the "Allow Notification" prompt, do not worry. You can elect to PAUSE, RESTART or OPT-OUT of these alerts at any time in the future. Just click on the little lock in your browsers address bar: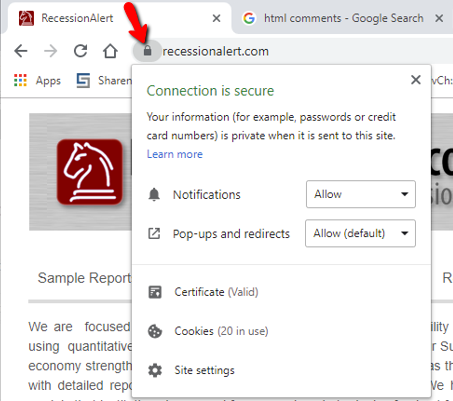 You can change Notifications from "Allow" to "Block" and you will no longer receive any alerts from us. You can click the lock at any time and re-allow notifications.
You have to explicitly accept (via the prompt) or set (via the lock) notifications from your desktop PC, Android tablet or Android smartphone to receive notifications on each device. You won't get notifications on your phone if you only allowed notifications on your desktop and vice versa. You need to control the notification process on each device you want to receive it.
Although you initially need to login to our site with a browser to allow notifications, once you have done this, you will receive notifications regardless if you are browsing our website or even if your browser is not open. Notifications will appear on the bottom right of your screen. If you were away or offline, and missed a few notifications, they will automatically queue up for you so that you can read through them all to ensure you never missed anything important.
Web push notifications are delivered even when you are not on our website:
Mac OS : Safari push notifications are delivered directly to the Mac OS Notification Center. With Chrome 59, Chrome push notifications became native with OS X notification center. Firefox notifications appear on the right hand corner of the browser.
Windows : these notifications are displayed above the task bar. Chrome 68 supports the native notification systems of the Windows 10 operating system. Notifications are directly delivered to Windows Action center.
On Linux, web push notifications are displayed in the top right section of the browser.
On Android, these notifications are displayed in the Android notification tray.
IOS : It is important to note that Apple is yet to support web push notifications on iOS.
NOTE : We will no longer provide report update notifications via email or Twitter. We will only do this via Web push from now on. If the report contains something we feel important however, we will still make commentary via email for subscribers.

We have been struggling for years for the ideal way of getting alerts through to clients beyond email or a dedicated mobile app and it appears the technology is finally here for us to do it cost effectively, so please be patient whilst we try this new method. Our feeling at least is that it is far superior and certainly more focused than Twitter alerts and all the issues and negativity from clients around running Twitter accounts in a corporate environment.
Alerts for paying subscribers and the general public are catered for, so even non-subscribers or prior subscribers are welcome to activate the alerts.